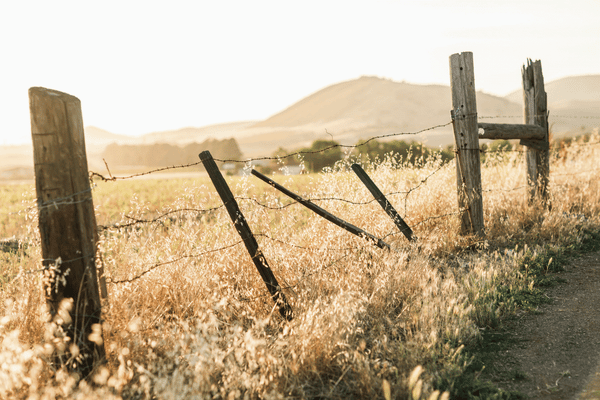 In early 2009 I was training in Portugal at a beautiful farm called Hippikos; dressage in the mornings, jumping in the afternoon, eating almost constantly (mouth-wateringly fresh food), sleeping a lot (blissfully whilst exhausted) and living the equestrian dream (under the brightest blue skies) and it is here that I fell in love with Portugal, the Lusitano and Celeris.
It was at Hippikos that I was first introduced to Artur, the man behind the creation of Celeris boots and bootmaker extraordinaire (although I didn't know it at the time). As a perfectionist (snap) and master craftsman (more importantly) Artur had vast experience creating luxury boots, using the best leathers for some of the most famous designer brands. He wanted to know what I thought about this new brand and to be absolutely honest (at that stage), I had no idea because I hadn't seen, let alone stepped into the boots! However, as a budding entrepreneur I was eager to find out more about the man with an impressive pedigree and possibly the best boots in the world and 'more' started with getting in the boots!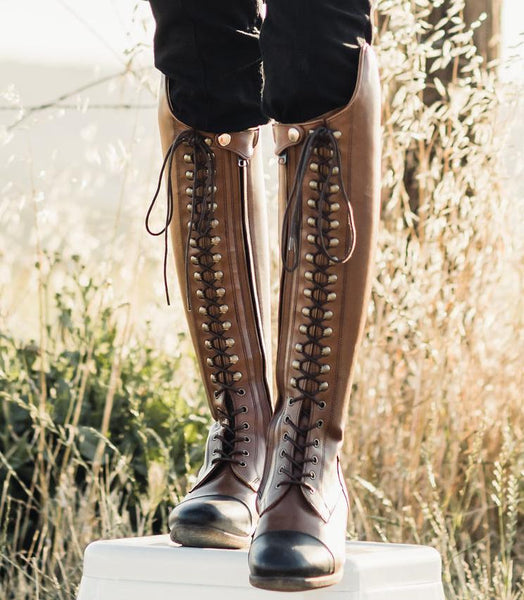 We set up a date and when it arrived I waited patiently, whilst Artur, took 24 measurements – uniquely, from both my legs and feet. I walked away and didn't think much more about it. However, a few weeks later, when I received my new boots, everything changed. When I first stepped into my boots, when I pulled up the zip for the first time (and I still remember this exact moment), I knew right then they were very special. Not only did they fit like a glove, but the quality was outstanding and I could not wait to ride in them – 'now' (then) I was truly excited and my constant pursuit of the perfect boot, ended (just like that).

The following day I couldn't get in my boots and on my horse quicker. Even during the warm up, I felt more secure in the saddle than I ever had before. This was so hard to explain but I knew this part was without a doubt due to the unparalleled fit, literally enveloping every contour of my foot and leg. They felt incredible and my ankle wasn't going to move anywhere (anymore) and you'd know if they did – as they were Bordeaux and back then this was considered really wild!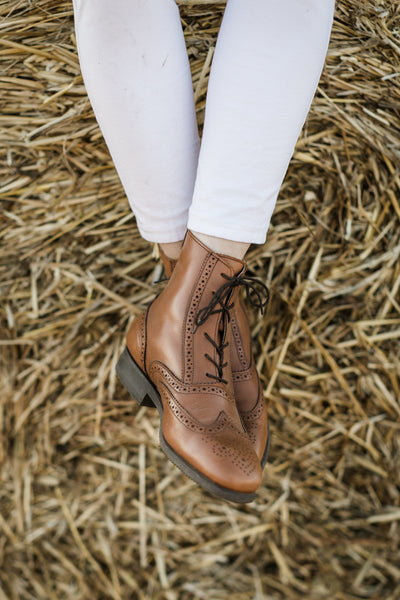 Whilst a super-tight squeeze on the first fitting, within half a day they felt like a second skin. Riding for 3 hours a day, in 34 degrees, was going to really test these new boots and at the end of day one they felt like slippers with no pressure points anywhere. I personally loved the simplistic yet elegant style of the Diogo, and they were finally tall enough and with no wrinkles (!!) – something I had always aimed for, but never quite got with a ready-to-wear, off-the-peg boot. Nothing came close to the boots I now owned and this is when I knew they were unique.
One rainy evening in Braga some months later, Artur and I sat down in a coffee shop after many many meetings and learning bootmaking from the ground up and he asked if I would to buy into, invest my heart and soul into this brand new, evolving brand - to start from scratch with no website, no social media and certainly no name of any kind at that time.  Artur was the manufacturer and master of the workshop and we agreed he would make the perfect boots and I would make the perfect brand and I took this literally.
That very night, there and then, Celeris UK was formed (in all but official capacity) and I walked out of that coffee shop laden with 2 sample boots (not pairs!), a deck shoe (!), a foot measure, a measuring tape and 19 colour swatches. The rest as they say is history and did I see this growth, this attention and this love of our brand? In a word, yes! I knew that once the boots reached the legs of the riders we would succeed. I truly believed and I just knew.
However, as someone who is not content with 'just so', I wanted to test them thoroughly too. I spent the next 18 months in Portugal (as an amateur rider), riding 3 hours a day, day-in-day-out (a couple of weeks at a time), in extreme heat – so that they were truly tested and hardly ever polished (shameful). I also wanted to know if these beautiful red boots were a 'one-off' so had a second pair made and they too fitted perfectly.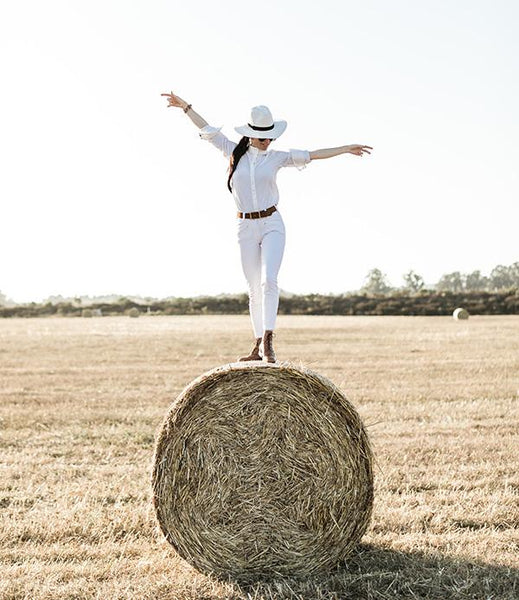 I still own both pairs today and they still fit as they did when I first tried them on and, whilst a little faded around the edges, they are as good as new. The leather hasn't thinned, the zipper and poppers haven't failed and they are the height they were at the start (yippee). I believe, without a doubt, that the unique fit of these boots is the key to their outstanding performance – the zips are not put under pressure (through poor fit), and they don't drop (beyond your natural ankle bend) putting pressure on different parts of the boot. Finally satisfied that the boots were the work of art that I suspected from day one – campaign Celeris UK began.
Year one was such a learning curve as we adapted, tweaked and refined processes and procedures but by year 3 we were on the map and by year 5 we were almost out of control. We found ourselves in the precarious position where we couldn't make the boots fast enough and demand outstripped our capabilities but how proud was I that our only real issue was lead times – what a fantastic position to be in! We only had so many pairs of hands and it really wasn't easy to just employ another artisan or two but over time we have grown from a team of 5 in the workshop to 25. In the beginning, we had 3 models and 19 colours, we now have over 30 models and 100 colours (and growing all the time) so everything has evolved but our company ethos and founding standards remain constant – meticulously handmade!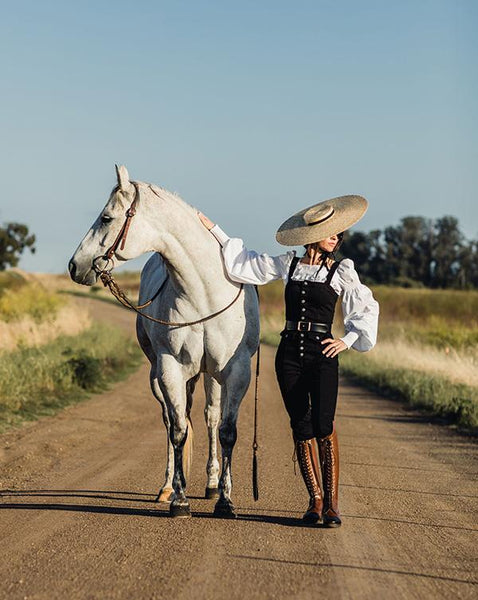 Fast forward to today and we never intend changing how we do things and for this reason we will always be limited on the number of beautiful boots we make but that adds to our uniqueness, to the luxury - totally. When you have the blueprint the way we do, down to the finite details – time will always be the key to excellence. Our strategy was never to be the biggest brand, it was to be the best and that means we will constantly be evolving with trends in our quest for absolute perfection.
I am a true entrepreneur and pure perfectionist who believed in the most amazing product. From the very start it was all about the details - in absolutely every aspect of the business and it still is. From the teeniest detail to the seemingly obvious, I notice e-v-e-r-y-t-h-i-n-g. I wanted to create a new luxury experience for clients and my team here get the most genuine pleasure when our clients are zipped into their new boots for the first time. I believe now, maybe even more so, that Celeris boots are as perfect as they can be and I genuinely believe in the quality, the workmanship and, without a doubt, the exceptional performance.
As a small family company there is no desire to be the biggest brand but a fierce desire to always remain the best. We supply to the UK, USA & Canada and to any other country in Europe without a representative (we only have a few but will not be expanding) and of course to existing clients wherever they may live.
Due to Brexit logistical restrictions and other issues caused by Covid sadly we cannot supply outside of the regions mentioned unless you are an existing client.
From all the team at Celeris UK, we look forward to creating your super boots!
Cate
Founder / CEO
Celeris UK